Capabilities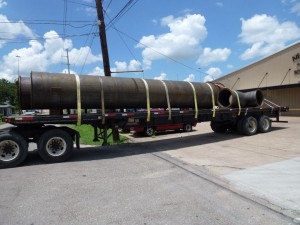 Our 13,000 square foot shop is located just one block off of Interstate 10 in Beaumont, Texas. This convenient location greatly simplifies shipping and receiving.
We have the capability to weld Carbon Steel, Stainless Steel, Aluminum and Alloys using MIG, TIG or Stick. We currently have welders on staff certified to AWS D1.1 and ASME Section IX.
Although we are not ASME Certified we have fabricated several Vessels in accordance with ASME section IX and API-650.
A partial list of Equipment and Capacities is as follows;
Shears
1/2″ x 10′
1/4″ x 10′
10 gauge x 4′
Press Brakes
300 ton x 10′
175 ton x 10′
30 ton x 6′
15 ton x 4′
Rolls
1/2″ x 8′
1/4″ x 5′
3/16″ x 5′
16 gauge x 4′
20 gauge x 4′
CNC Plasma Table
6′ x 20′ Table with 125 amp Plasma Torch and Oxyfuel Torch
Saws
13″ Kalamazoo Horizontal Band Saw
36″ Do-all Vertical Band Saw
20″ Abrasive Chop Saw
Punches and Drills
70 ton Iron Worker
8 ton Rotex Punch
Louver Punch
2 Drill Presses